Election Cake
On water mains and the infrastructure of care
Dear Bread people,
I've been thinking about infrastructure, a blanket term that wraps up many things. When I started learning about grain systems, it's the word that kept popping up. People like June Russell of GrowNYC Grains used the word infrastructure as shorthand to express what the Northeast didn't have. I knew I wasn't grasping the full sense of the term because of the frequency it was repeated. I learned the basics: infrastructure was mills, yes, malthouses, but I could tell people were referring to some bigger bridge that had collapsed. Several years into my curiosity, I can hear June's voice clarifying the concept. Ideas, or soft infrastructure, included the crop knowledge and farmer familiarity with things like harvesting and storage practices for food grade grains, the understanding of which disappeared as mills and grain farming migrated from the region. The hard infrastructure we didn't have were flour mills, malt houses and farm equipment like combines, seed cleaners, and grain bins. Seed varieties suited to our climate and conditions were the product of directing the soft infrastructure of attention and knowledge onto a material need. All of this was infrastructure, and we needed to rebuild it to restore a strong regional grain system.
I think of the term infrastructure frequently in my city. Troy's plight is common to the de-industrialized Northeast and Rust Belts. Troy had a peak population of 73,000 in 1910 as industry boomed and the city bloomed. For the 20 years I've lived here, the population has been hovering right under 50,000, meaning we don't have the tax base to tend to our aging infrastructure. Maintenance of public utilities means troubleshooting rather than addressing problems systematically. Like my city, the food system is too big to repair at once; we are addressing issues piecemeal, helping improve food access as emergencies occur – like the 40+ year emergency of many people not having enough money for food. But I digress. Clearly, I will return to this topic.
Fractures in our water system are fairly routine, although I'm used to them happening in winter as freezes create stress on very old pipes. Last Monday, a water main broke downtown. The pressure was so intense it pushed up a tree and tipped over a light pole. The break happened only five blocks away, and inside our house we could hear the effect. A sound of water was gushing through the pipes, maybe down from the roof? I kept looking outside, but it wasn't raining. Turns out the break caused a vacuum in the system, yanking all the water in our pipes out to the street. My husband turned the water off and we told neighbors to turn theirs off, too. My son went to the spring to fill up a 5-gallon jug because we weren't sure how long the outage would last. A few hours into the situation, I walked down to investigate the site.
Dusk was falling and people were headed home from work. Across the Hudson River, car lights streamed like a shimmering necklace on Route Seven, a three-lane highway connecting various dots in the Capital District. Every night, cars create this twinkling jewelry. White headlights head downhill, aimed at my city not as a destination, but as crossroads to get out to the suburbs. Red taillights head uphill to first go east and then farther north to other suburbs.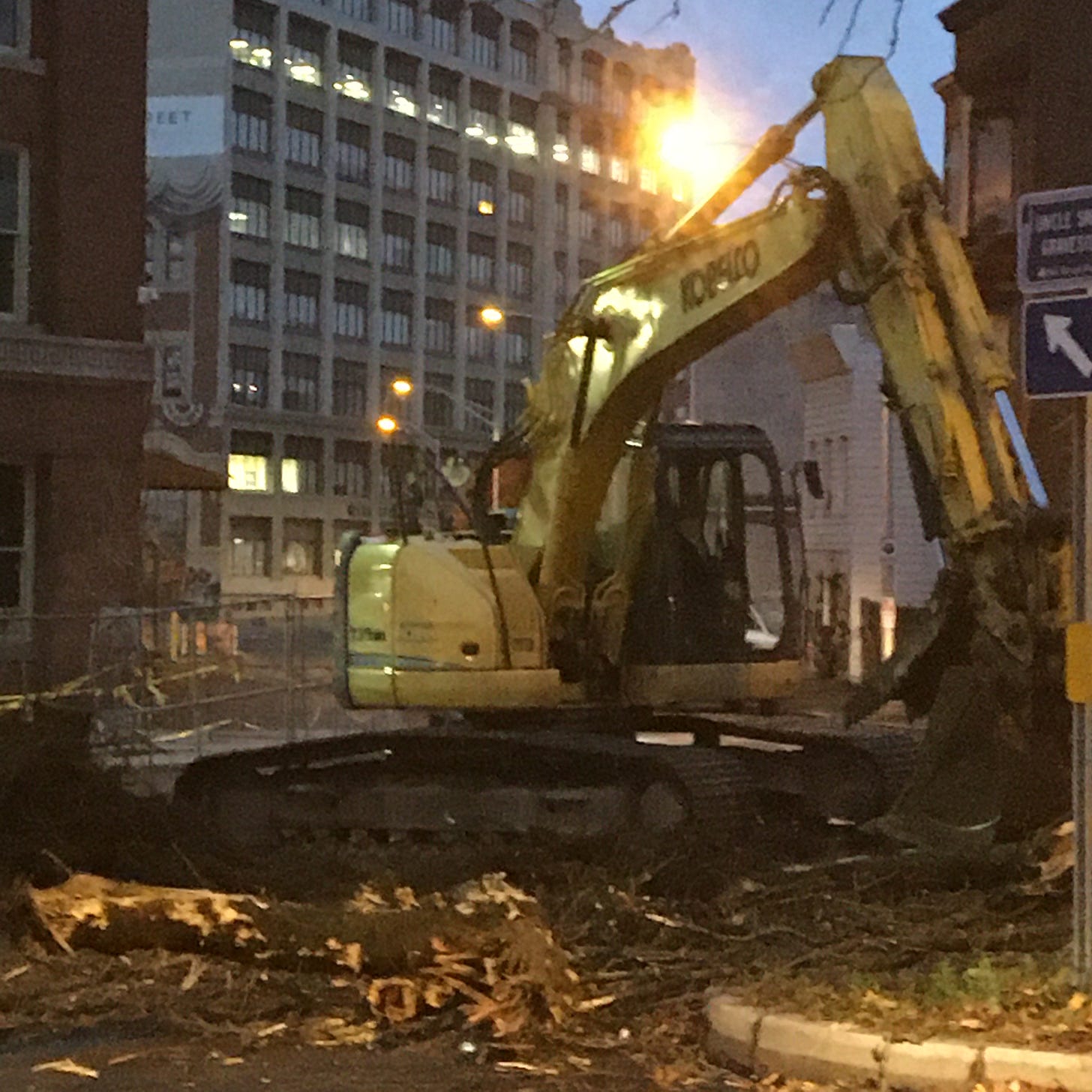 As I surveyed the damage in the twilight, lights were dazzling, mechanical fireflies caught in and highlighting the drama of the work. Streetlights ignited, and work lights blared on the tree debris, on the hole dug to get at the problem pipes, and on a giant chipper digesting the branches and trunk from the uprooted tree. The light pole lay on the sidewalk like a basketball player felled by a body blow.
The noise was terrific, as my dad used to say, using that adjective not to mean great but to mean stunning. I looked at the work for a while and walked toward more noise, down by the Green Island Bridge, where I saw a hydraulic hammer break into another part of the water/sewer lines. As the jackhammer poked into the asphalt, the body of the machine lifted off the ground, and the operator was raised up in his cab. He tilted up, and then came down. Up again. I felt like a little boy, enchanted by big trucks doing big work.
I have watched little boys love machines for a long time. When my son Francis was fascinated with excavation equipment, I felt defeated. I had high feminist hopes and thought that by sheer will and suggestion my husband and I could raise a boy who didn't magnetically want machines. But I could see he was natively intrigued, and I gradually learned that his inclination wasn't a threat to me. His brother Felix loved machines too, and maybe if I had a girl, she might also. I'll never know. I do know that any writing time I got when they were little was earned with Mighty Machine videos!
Now, I love watching the little boys in my neighborhood play with trucks in our yard and walk with their parents to work sites to observe diggers. Felix is 17 and his machine dreams have come true. When he comes home from his heavy equipment class at the vocational education center, excited to tell me about what machine he drove, all I feel is joy. I feel joy fluttering up my belly and into my throat, just writing about it!
How can I be the same person who thought she was a failure because her toddler liked to watch trucks? This is evidence of change, and it happened by my being exposed to uncomfortable differences. I loved (and love) my boys and anything that compels them is wonderful. Well, not everything would be wonderful, but I have learned to trust these guys' instincts, and their engagement is beautiful.
I want to go out on a limb and suggest that Americans need to get uncomfortable to get comfortable again. Thinking about the violence of our opinions about the coronavirus, the right to abortion, the president, the value of Black lives, there is no shortage of matters that create friction and demand attention. How can we begin the work? If I stick to the parallel of my family, it has to begin with love. I could never have gotten over my ideas about boys and machines if I didn't have love guiding and grounding me. What if patriotism was love for our neighbors? Can I begin to find love for my neighbors near and far, allies and apparent enemies, and help them by engaging in a similar extended period of connection and growth? I'm not sure what that looks like, to be honest with you, but I think that there's a lot of room to create connections that can help foster individual and community growth. And, of course, I think they can begin with food.
This week, I'm afraid of conflict leading up to and after election day, but I'm happy to see that people are still feeding each other. Of course, the long traditions of spaghetti suppers at churches are not quite the same this year, but there's a Pizza to the Polls effort, and Chefs for the Polls is an initiative of World Central Kitchen to feed voters waiting in long lines.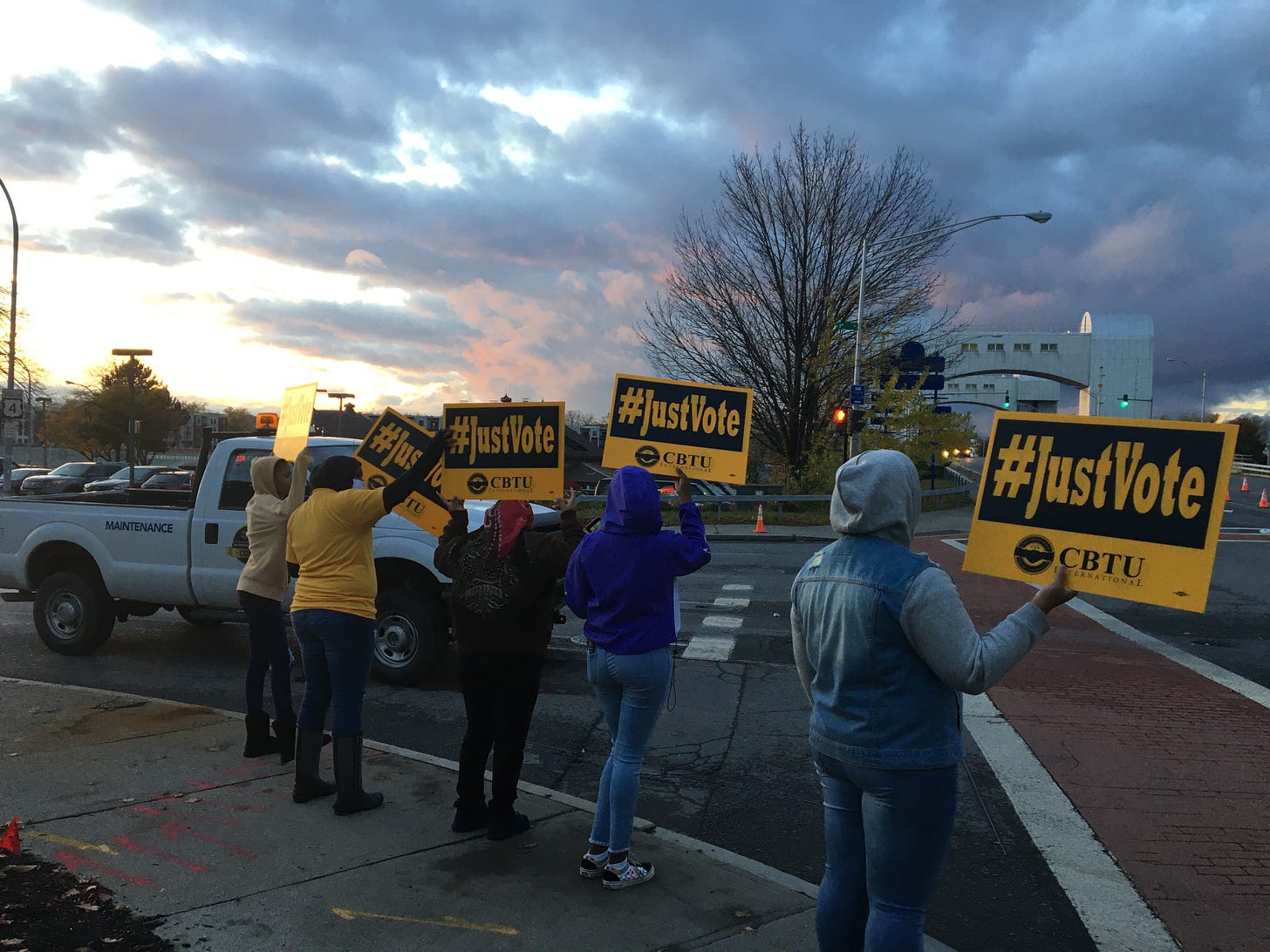 What I'm doing is baking election cake. I was feeling wildly anxious, upping my bread consumption to soothe my nerves, and then my friend Ellie said she was making election cake. I'd avoided baking it in 2016 because I was new to sourdough and still afraid of it. But now, I'm ready.
Susannah Gebhart and Maia Surdam of OWL Bakery in Asheville, North Carolina helped revive the tradition of Colonial era election cakes in the leadup to the last presidential election, inviting bakeries and home bakers to bring celebration into the ritual of voting. Remember that one candidate promised infrastructure? Excitement over the hope of electing the first woman president fueled this baking. Yet OWL kept baking election cake for every election since, selling slices or sometimes whole cakes to benefit the League of Women Voters.
Anna Brones' interviewed Maia Surdam about the cake and made this great writeup on Comestible, her food inquisition platform. Sarah Owens' take on election cake accompanies the article. I learned about these because I spoke with Maia, wanting to catch up with her and see how the idea and reality of the cake sat with her right now. She told me about bringing election cake to the farmers' market last weekend, and how wonderful it was to talk with people about the history. An important part of the cake is the sharing process, Maia said -- sharing the recipe, sharing the story. And the fact that democracy, like this recipe, needs to be nurtured. This isn't a swift endeavor. You have to soak the fruit, and plan your levain or sponge, if you're making a yeasted cake. Voting needs planning and forethought, too. Neither making the cake nor placing your vote can be taken for granted.
"This cake is nourishing to the soul because you're eating a tradition of honoring democracy. It's special," said Maia.
Here's a link to the OWL recipe for home bakers, and there are plenty around to try — like this one from Kim O'Donnel. I'm soaking my fruit and starting my levain, and I'd love to take my cakes down to the farmers' market and hand them out to people. I wish I could have exchanges about food in public! But because of infection concerns, passing out homemade food will be poorly received at the market or on a voting line, so I'm keeping my sharing circles tight.
Even if you don't want to bake election cake, why don't you see if your neighbors want some cookies or mac and cheese for Tuesday night? It's a good way to ask if they've got voting plans, and your neighbors might be thrilled. Maybe this community care is its own type of forgotten soft infrastructure we need to restore.
Yours,
Amy